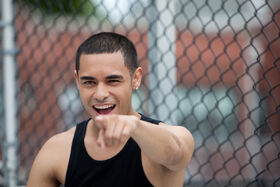 Luis Fuentes is the youngest Fuentes brother. Luis is married to Nikki Cruz.
Personality
Edit
He is smart and thought to be the good child by his family. But he is really an aderaline junky who does crazy things. He wants to be an astronaut.
Appearance
Edit
Luis has black hair and gorgeous eyes just like his older brothers.
Nikki Cruz = wife
Enrique Fuentes = son, with Nikki
Juan Fuentes = son, with Nikki
Luis Jr. (Junior) = son, with Nikki
Lorena Fuentes = mother
Hector Martinez (deceased) = father
Mr. Fuentes (deceased) = legal father
Alex Fuentes = older brother
Brittany Ellis = sister-in-law
Paco Fuentes = Alex and Brittany's son, Luis' nephew
Unborn/Unnamed niece or nephew = Alex and Brittany's child
Carlos Fuentes = older brother
Kiara Westford = sister-in-law
Cecilia Fuentes = Carlos and Kiara's daughter, Luis' niece
2 unnamed nieces = Carlos and Kiara's daughters
Enrique (deceased) = cousin
Dr. Raul Cruz = father-in-law
Maria Cruz = mother-in-law
Ben Cruz = brother-in-law
Cesar Reyes = stepfather
Relationships
Edit
Nikki Cruz = wife, best friend
Derek = best friend
Kendall = friend
Pedro = friend
Jack Reyerson = friend
Brooke = friend
Jamie Bloomfield = friend
Eli Movitz = friend
Angelica Muñoz = friend, former fling
Mariana Castillo = ex-crush
Marco Delgado = ex-friend, enemy