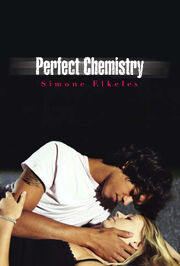 A fresh, urban twist on the classic tale of star-crossed lovers. When Brittany Ellis walks into chemistry class on the first day of senior year, she has no clue that her carefully created "perfect" life is about to unravel before her eyes. She's forced to be lab partners with Alex Fuentes, a gang member from the other side of town, and he is about to threaten everything she's worked so hard for—her flawless reputation, her relationship with her boyfriend, and the secret that her home life is anything but perfect. Alex is a bad boy and he knows it. So when he makes a bet with his friends to lure Brittany into his life, he thinks nothing of it. But soon Alex realizes Brittany is a real person with real problems, and suddenly the bet he made in arrogance turns into something much more. In a passionate story about looking beneath the surface, Simone Elkeles breaks through the stereotypes and barriers that threaten to keep Brittany and Alex apart.
The Back Info
Edit
This book is about Alex Fuentes the bad boy who is smart and part of a gang and Brittany Ellis a rich white girl who has it everything but her life isn't perfect as everybody sees it. They are assigned as lab parters in Chemistry Class. Alex's friend makes a bet that he can get her to have sex with her before Thanksgiving and must have proof. All Brittany wants to do is get A in Chemistry so she can go to the college which fits the destination of her sister Shelley who is diasbled. Alot of arguing and flirting took place and Brittany and her relationship with her boyfriend Colin is rocky. Eventually she breaks up with him to go to Alex but Alex picks the gang over Brittany. Though at the end Alex tells Brittany about the bet and he says he doesnt want to see her again. However, Brittany is head over heels for Alex and cant stop loving him. When Brittany goes to visit Shelley, she finds Alex there. He apologizes and they reunite. It is revealed that they have the same major...Chemistry. In the Epilogue, they are married with a son.
Book Trailer
Edit
Community content is available under
CC-BY-SA
unless otherwise noted.